MUSICAL 「Faust ~The Last Crussade~」
–SYNOPSIS–
"A long time ago in a particular place, there was a sublime devil named Mephistopheles.
With the appearance of an angel, Mephisto got tired of humans who hated the devil, he always received a significant sentence from God: "The human mind is wonderful." Because of this, Mephisto established a bet with God, something that was going to be a big challenge.
"For a man like Faust, only dead will reach the eternal life. To satisfy his earthly life, you would have to take his soul…"
Faust was known to be a person like that, in exchange for living a new future, he reaches an agreement with Mephisto and decides to sell him his soul. To provide this future, Faust needs the presence of the Witch Lilith, who gives him the name of Heinrich to start his new life, Mephisto needs also to create his own human alter ego, Ofistopheles, to tread the human world.
The country of Menerasu was ravaged by hardship and held a masquerade party to raise money. Heinrich attended the masquerade with Ofisto, producing the meeting with the beautiful Princess Margarete (Nami), but Prince Valentin, suspicious, attracted the attention of Heinrich. The King of Menerasu lived in a golden palace with the ghost of his deceased and pretty wife Helene, who captures the attention of Heinrich and offers him help by promising to fulfill his desires with the princess. However, there was one condition, if Heinrich betrays Helene, Margarete's life would suffer a horrible fate.
Heinrich, thinking about Margarete, accepts any conditions, but Ofisto, Lilith and even the angel Gabriel and the wizard Sherman, enter the challenge of fighting against Helene.
Finally, Heinrich choose the way of courage and struggle to achieve his destiny.
An exciting ending was coming."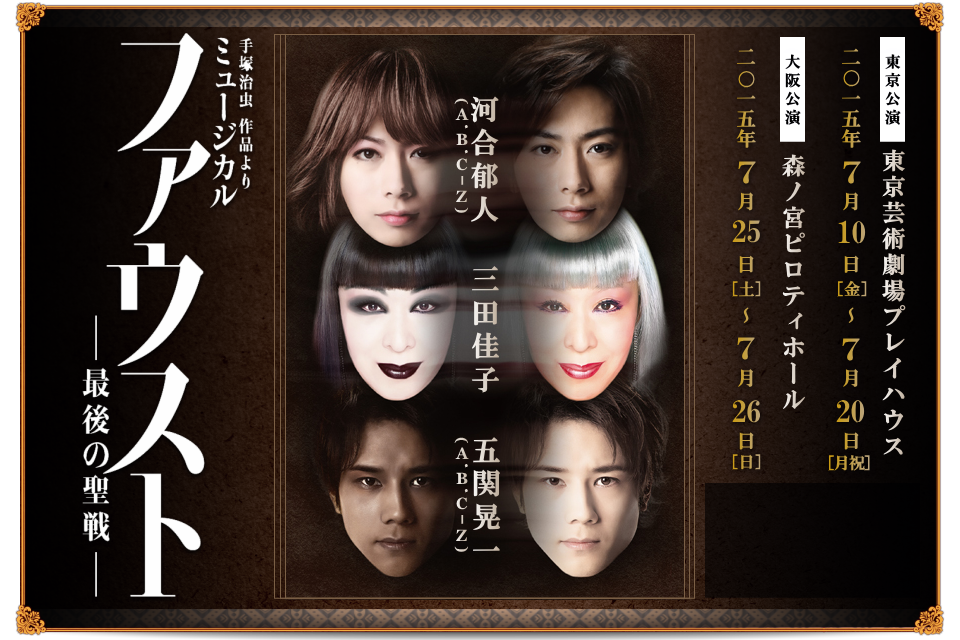 Source | http://musical-faust.com 
Translation | Nami Tamaki Spain