Nami actuará en el musical 「Finding Mr.DESTINY」 el próximo mes de agosto.
¡Tendrá de nuevo papel protagonista! Será su musical nº 18 y se trata de una obra con solo 3 actores: actuará junto a Sho Takada (Johnny's Jr.) y Kenji Sakamoto.
Se trata de una comedia romántica musical original de Corea del Sur, Sho Takada tendrá un doble papel masculino mientras que Nami tendrá el papel de la chica de quien este se enamora. El título de la historia es: "En busca de su primer amor".
El musical se representará en Tokio del 4 al 13 de agosto en el DDD Aoyama Cross Theater; y en Osaka los días 17 y 18 de agosto en el ABC Hall.
Nami will perform in the musical 「Finding Mr.DESTINY」 next August!
She will perform again the main role! It will be her 18th musical and it's a play with only 3 actors: she will perform together with Sho Takada (Johnny's Jr.) and Kenji Sakamoto.
It's an original romantic comedy musical from South Korea, Sho Takada will play a double male role while Nami will play the role of the girl he falls in love with. The title of the story is: 'Finding his first love'.
The musical will be hold in Tokyo from 4 to 13 August at DDD Aoyama Cross Theater; and in Osaka on August 17 and 18 at ABC Hall.
MUSICAL 「Finding Mr.DESTINY」
Cast
Sho Takada (Johnny's Jr.)
Nami Tamaki
Kenji Sakamoto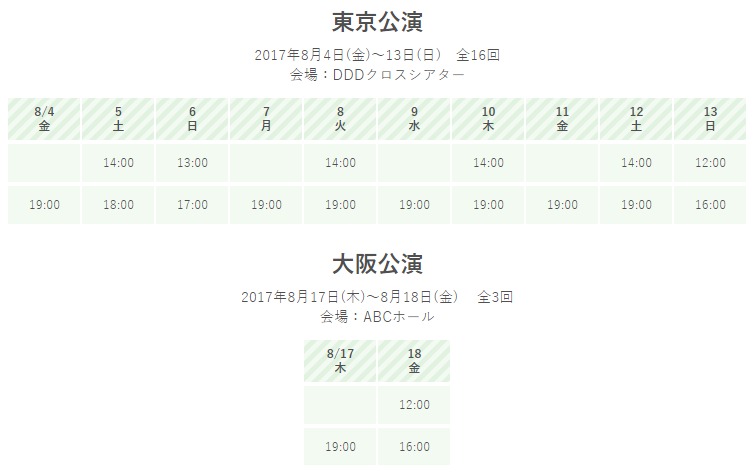 Actuaciones /
Performances
Tokyo (DDD Aoyama Cross Theater)
4/8 – 19:00
5/8 – 14:00, 18:00
6/8 – 13:00, 17:00
7/8 – 19:00
8/8 – 14:00, 19:00
9/8 – 19:00
10/8 – 14:00, 19:00
11/8 – 19:00
12/8 – 14:00, 19:00
13/8 – 12:00, 16:00
Osaka (ABC Hall)
17/8 – 19:00
18/8 – 12:00, 16:00
Staff
Book & Lyrics by You Jeong Chang
Music by Hae Sung Kim
Originally Produced on the Korean Stage by CJ E&M Corporation
Script, lyrics & production: Komei Sugano
Musical director: Shuhei Kamimura
Choreography: Uran Hirosaki
Traducción |

Translation:

Nami Tamaki Spain