Official Blog "I AM ME": ☆ Actuaciones de Ichiba Saburo en Tokio ☆ (26/11/2018)
Hacía mucho tiempo que no actualizaba.
El elogiado musical "Ichiba Saburo ~ Guam no Koi" está en pleno periodo de producción.
Hoy y mañana son días de descanso, así que finalmente vine a escribir en el blog.
Es la primera vez que me enfrento a este tipo de comedia musical, es más difícil de lo que imaginé…
Me sentí muy presionada muchas veces,
pero mientras fui ensayando día tras día junto al resto de compañeros, la armonía fue creciendo y me fui sintiendo cada vez más cómoda, ¡ahora se ha convertido en un mundo favorito!
Cuando alguno de nosotros está en los camerinos, siempre se puede escuchar a alguien cantar las melodías, es una maravillosa compañía.
Este musical es una secuela del musical que se realizó hace dos años con el título "Ichiba Saburo ~ Hot Spring Inn Love"
En esta obra hay 3 nuevos participantes (Miho, Komatsu y yo),
al principio nos poníamos tan nerviosos que no sabíamos donde estábamos parados (risas)
Todos los que participaron en la primera edición nos guiaron muy cálidamente y nos ayudaron mucho a adaptarnos, ¡fue muy divertido!
¡Y el gran recibimiento del público!
En cada actuación recibo una maravillosa energía con cada aplauso, risas y sonrisas.
Gracias y gracias.
Aún quedan algunas actuaciones en Tokio, nos esforzaremos todos juntos hasta el final. Seguid animándonos.
Ayer vinieron a vernos dos participantes de la primera edición,
Noriko Iriyama y Mariru-chan♡
Fue muy divertido y relajante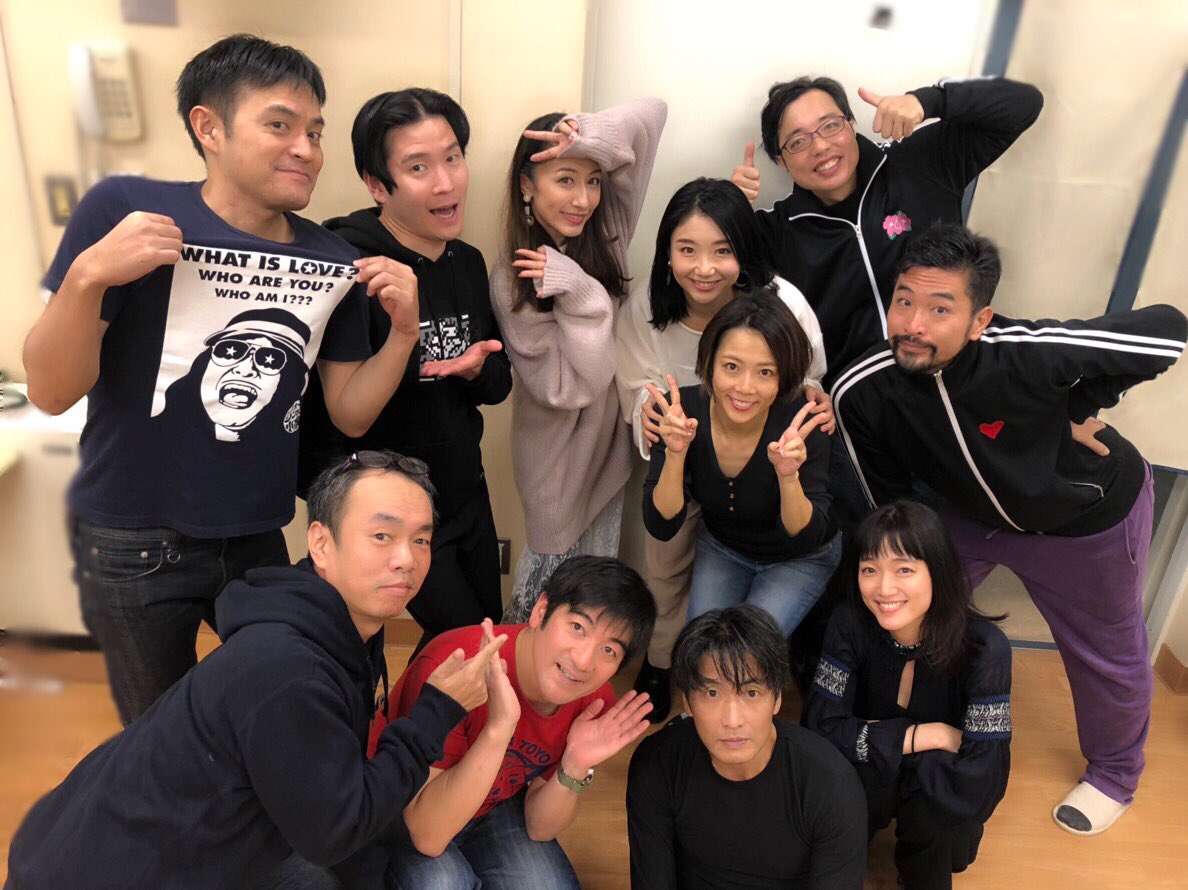 xoxo.
---
It's been a long time since I've updated.
The acclaimed musical "Ichiba Saburo ~ Guam no Koi" is in full production.
Today and tomorrow are days off, so I finally came to write on the blog.
It's the first time I've faced this kind of musical comedy, it's more difficult than I imagined…
I felt very pressured many times,
but as I rehearsed day after day with the rest of my workmates, the harmony grew and I felt more and more comfortable, now it has become a favorite world!
When one of us is in the backstage, you can always hear someone singing the melodies, it's a wonderful company.
This musical is a sequel to the musical that was released two years ago with the title "Ichiba Saburo ~ Hot Spring Inn Love".
In this work there are 3 new participants (Miho, Komatsu and I),
at first we got so nervous that we didn't know where we were standing (laughs)
Everyone who participated in the first edition guided us very warmly and helped us a lot, it was a lot of fun!
And the great reception from the audience!
In each performance I get a wonderful energy with every applause, laughter and smile.
Thank you so so much.
There are still some performances left in Tokyo, we will all strive together until the end. Thank you in advance.
Two participants of the first edition came to visit us yesterday,
Noriko Iriyama and Mariru-chan♡
It was a lot of fun and relaxing.
xoxo.
© https://ameblo.jp/tamakinami-blog/entry-12421750299.html
Translation by Nami Tamaki Spain