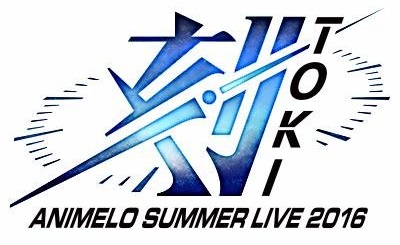 Nami ha sido anunciada como una de las artistas que actuarán este verano en el Animelo Summer Live 2016 刻-TOKI-. Se celebrará durante los días 26, 27 y 28 de agosto en el Saitama Super Arena.
Animelo Summer Live es el mayor macrofestival de canciones de anime que se celebra todos los veranos en Japón desde el año 2005 en los mayores estadios del país. El Saitama Super Arena tiene una capacidad para 37.000 personas.
Esta es la primera vez que Nami participa en el festival y se ha mostrado muy entusiasmada por ello, confesando además que es "un sueño hecho realidad".
Nami actuará el primer día, el 26. A continuación, os mostramos toda la información sobre el festival ↓
Nami has been announced as one of the artists who will perform this summer on Animelo Summer Live 2016 刻-TOKI-. It will held on days 26, 27 and 28 of August at Saitama Super Arena. 

Animelo Summer Live is the greatest macrofestival of anime songs which is held every summer in Japan since 2005 in the biggest national stadiums. The Saitama Super Arena has a capacity for 37,000 people.
This is Nami's first appearance in this festival and she has shown her excitement about this, also confessing it's "a dream come true". 
Nami will perform the first day, on the 26th. We detail all information about the festival below ↓


Fechas | Timetable: 26, 27, 28 Agosto /

August

. – OPEN 14:00. START 16:00.
Lugar |

Venue

: Saitama Super Arena
Organización |

Organization

:

MAGES / Nippon Cultural Broadcasting
Patrocinio |

Sponsorship

: LIVE DAM STADIUM / Good Smile Company
Soporte |

Support

: Saitama Prefecture / Er Tea X / NBC Universal Entertainment Japan / KADOKAWA / King Records / ZERO-A / Sony Music Entertainment / DIVE II entertainment / Nippon Columbia / Victor Entertainment / Fix Record / Flying Dog / Pony Canyon / Lantis / Warner Bross Home Entertainment
Planificación |

Planning

: Anisama Project Executive Committee
Cooperación |

Cooperation

: Saitama Super Arena / Seven Eleven Japan / Tower Record / Pia
26/8
Yuuka Aisaka / i☆Ris / Eir Aoi / AKINO with bless4 / Yuka Iguchi / every♥ing! / GRANRODEO / ZAQ / Suara / Azusa Tadokoro / Nami Tamaki / Demon Kakka / Rie Murakawa / May'n / Yohske Yamamoto / more…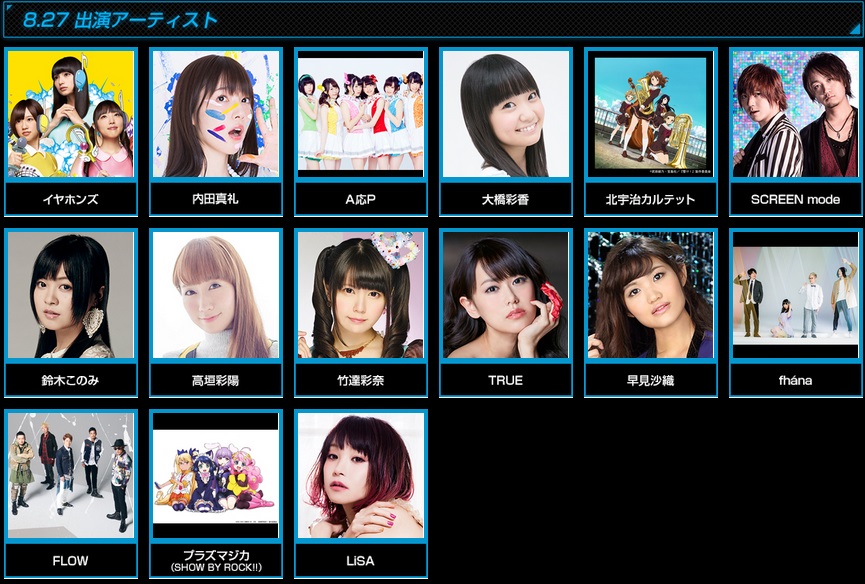 27/8
Earphones / Maaya Uchida / A応P / Ayaka Ohashi / Kitauji Quartet / SCREEN mode / Konomi Suzuki / Ayahi Takagaki / Ayana Taketatsu / TRUE / Hayami Saori / fhána / FLOW / Purazumajika (SHOY BY ROCK!!) / LiSA / more…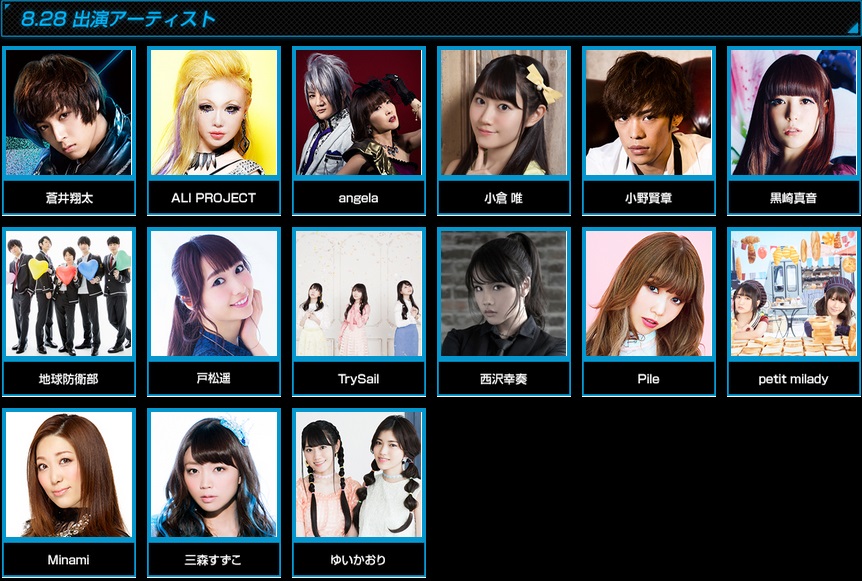 28/8
Aoi Shota / ALI PROJECT / angela / Yui Ogura / Kensho Ono / Maon Kurosaki / Boei-bu / Haruka Tomatsu / TrySail / Shiena Nishizawa / Pile / petit milady / Minami / Suzuko Mimori / YuiKaori / more…
Official HP: http://anisama.tv/


Translation: Nami Tamaki Spain