423 ~ 10º Aniversario de Nami☆
Por fin ha llegado el día, ¡hoy es el 10º aniversario de Nami!, debutó el 23 de abril de 2003 con su primer single "Believe" y hoy se cumplen 10 años completos desde su debut. Como cada año, Nami ha dejado un mensaje muy especial en su blog y este año el más especial de todos por haber cumplido su primera década como artista. También ha dejado muchos mensajes de agradecimiento a sus fans en Twitter y, al no poder responder a todos los mensajes que recebía, ha puesto mensajes globales por tanto apoyo recibido en todos estos años.
Desde Nami Tamaki Spain queremos desearle un muy feliz 10º aniversario y darle la enhorabuena por tantos años de éxitos y alegrías que nos ha dado a sus fans alrededor del mundo, 10 años de éxitos, alegrías, conciertos, canciones, musicales, películas y millones de sonrisas que Nami nos ha regalado. ¡Y que dentro de 10 años volvamos a celebrarlo todos junto a ella! A partir de hoy empiezan sus 11 años de carrera, sumando y siguiendo celebrando con ella sus éxitos, ¡que el ritmo no pare!
Cómo ya sabréis, su canción 423 está escrita por ella y dedicada al día de su debut, el 23 de abril, (4: mes de abril, 23: día). Esta canción fue incluída en su álbum "Don't Stay", y aquí os la dejo para todos, es un fanvideo que hizo nuestra moderadora Regi hace dos años, para su octavo aniversario.
¡Otro año más, y todos los del mundo, seguiremos siempre apoyando a nuestra preciosa Nami-chan!
Nami, WE LOVE YOU! 
¡FELIZ 10º ANIVERSARIO NAMI!
 
HAPPY 10th ANNIVERSARY NAMI!
 
10周年おめでとうございます、成実ちゃん!
[youtube https://www.youtube.com/watch?v=Np-GLPU0sPs]
Y ahora, me gustaría dedicar unas palabras personales a Nami por su 10º aniversario. De todos los 10 años de la carrera de Nami, REAL es sin duda el mejor de sus trabajos, un balance de ella misma donde plasma en las 3 canciones, tanto en letra como en sonido, todos sus sentimientos, pensamientos y lo que ella misma es y ha sido enteramente a lo largo de esta década. Los que conozcan bien a Nami, y siguen su carrera desde el principio, me darán la razón. Eso, y las propias palabras que ha dejado Nami en el blog de su fanclub, mostrándose inmensamente emocionada y agradecida a todos por todo el apoyo mostrado y el bien recibimiento que ha tenido el single, recordando sus comienzos y haciendo felices a todos aquellos que la conocieron con Believe, es sin duda un trabajo que ha salido de forma natural desde lo más profundo de su alma.
Y hoy día 23 de abril, estamos celebrando por todo lo alto y más que nunca, el espléndido 10º aniversario de la carrera de Nami Tamaki. Y respondiendo a Nami por su blog, y de forma personal, soy yo la que está orgullosa, emocionada y agradecida eternamente por todos los buenos momentos y alegrías que me da día a día hasta con el más mínimo detalle. Porque no importa lo que digan, los que a veces la critican la hacen más grande, quienes la queremos de verdad, la querremos para siempre. Es una artista grande, independiente, pisando fuerte con todo lo que hace, sin perder la sonrisa jamás. Un ejemplo de esfuerzo, superación, entrega y dedicación. Suma y sigue, Nami, cada día te haces más grande y brillante y más brillante serás, como dice su canción DreamerS, escrita por ella: "We are dreamers under the stars, gettin' brighter and brighter we are, believe the future we'll have and I will never forget".
Nami, gracias por darnos todo lo que nos das a diario, te quiero y gracias al fanclub, sé que un día podré abrazarte muy fuerte. ♥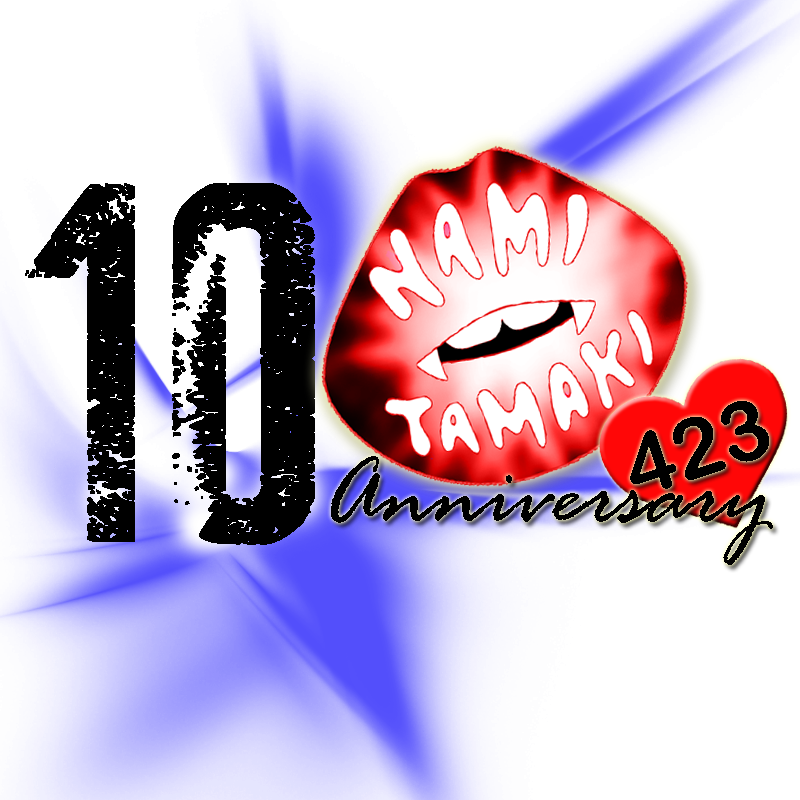 Atentamente: Admin. y staff de Nami Tamaki Spain
(Imagen diseñada por Salma, moderadora)