Nuevo musical para Nami: 「Faust ~The Last Crusade~」 
¡Este verano Nami co-protagonizará un nuevo musical!
Una obra maestra de Osamu Tezuka que conmueve el alma y que tendrá lugar en Tokyo y Osaka en el mes de julio.

NEW MUSICAL STAGE: 「Faust ~The Last Crusade~」 
This summer Nami will co-star a new musical stage! 
A masterpiece of Osamu Tezuka that stirs the soul, it's going to be held in Tokyo and Osaka on July.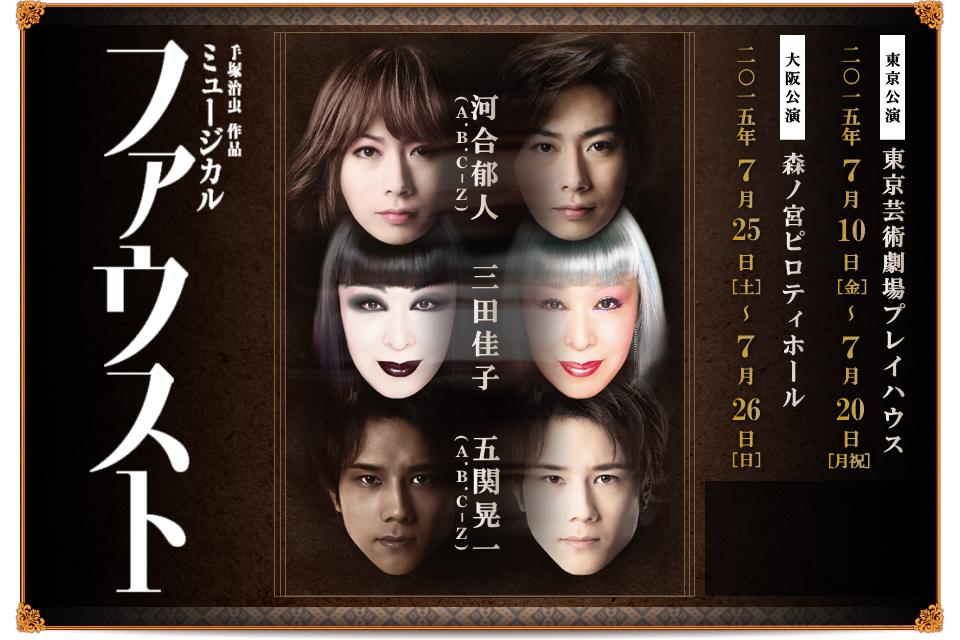 | Reparto principal / Main Cast |
Fumito Kawai (A.B.C-Z)
Yoshiko Mita
Koichi Goseki (A.B.C-Z)
Nami Tamaki
Yuka Masuda
| Reparto secundario / Supporting Cast |
Yuma Akagi
Yûshi
Shunichiro Saito
Yûhei Hayakawa
Mizuki Kobayashi
Koran Kuroda
Yukari Suzuki
ANGELLA
Rena Ijichi
Minako Maruyama
Yoshiaki Umegaki (Wahahahompo)
Morooka Moro
Ryû Morimiya
Kunito Watanabe
Bin Fujii
Hirokazu Tategata
※ La distribución de los papeles se anunciará pronto. ¡Estad atentos! 
※ The distribution of the roles will be announced soon. Stay tuned! 
| Horario de presentaciones / Performances Schedule |
【Tokyo】 Tokyo Art Theater Playhouse 
(Del 10 al 20 de julio, 2015 / From July 10 to July 20, 2015)

10/7: 18:30
11/7: 13:00, 17:30
12/7: 13:00, 17:30
13/7: DESCANSO / DAY OFF
14/7: 14:00, 18:30
15/7: 18:30
16/7: 14:00, 18:30
17/7: 14:00, 18:30
18/7: 13:00, 17:30
19/7: 13:00, 17:30
20/7: 13:00
【Osaka】 Morinomiya Piloti Hall 
(25 y 26 de julio, 2015 / July 25 and 26, 2015)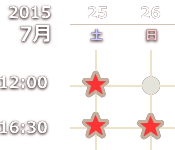 25/7: 12:00, 16:30
26/7: 12:00, 16:30
Idea original / Original concept: Osamu Tezuka, "Faust"
Supervisor: Shigeki Motoiki
Directora / Director: Jun Yoriko
Guión / Script: Jun Yoriko, Akiko Kodama
Música / Music: Suguru Matsutani

Coreografía / Coreography: Hirokazu Tategata
Escenografía / Staging: Toru Shimakawa
Iluminación / Lighting: Junichi Kashiwakura 
Sonido / Sound: Yuki Toda
Vestuario / Outfit: Kazumi Yamashita
Peluquería y Maquillaje / Hair & make up: Masako Nakahara
Vídeo: Tokyo Style
Acción / Action: Hoshimi Asai (RHYTHM COLLECTION)
Entrenamiento vocal / Vocal coaching: Kayo Nagano 
Asistente de dirección / Assistant manager: Kyoko Ishida
Director de escena / Stage management: Masahito Hirayama

Publicidad / Advertising: Takashi Shunsaku (Gene & Fred)

Producción / Production: Satoko Tomaru, Takeshi Kobe, Yuki Matsuo
Productor / Producer: Yuki Ogawa, Tetsuya Yamaura, Yasuo Takahashi, Tomie Kondo, Shigeki Tomosei

Proyecto de planificación / Planning project: Tezuka Production
Organizador / Sponsorship: Musical 「Faust」 Performance Executive Committee
Web Oficial / Official HP: http://www.musical-faust.com
Traducción

| Nami Tamaki Spain