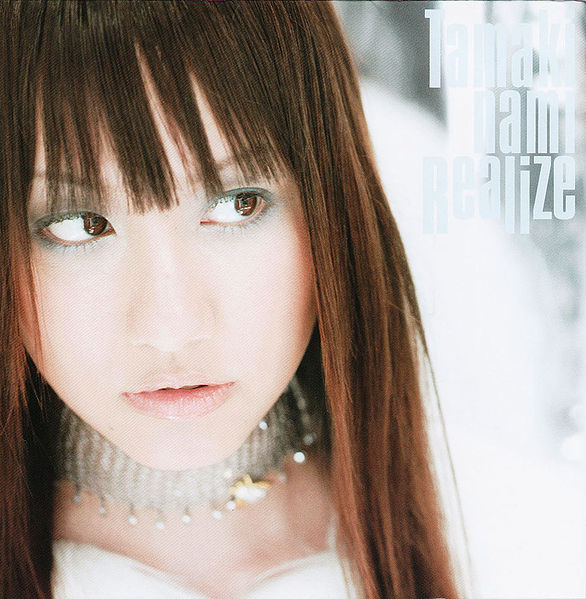 Realize es el segundo single de Nami y se publicó el 24 de julio de 2003, hace 15 años. Este es uno de los singles más vendidos de su carrera debido a su popularidad, Realize fue el tema opening del popular anime Mobile Suit Gundam SEED emitido en la cadena TBS en ese mismo año. El single alcanzó el puesto #3 en las listas de venta de Oricon, vendiendo casi 200,000 copias durante las primeras 13 semanas de lanzamiento. Meses después se publicó el DVD de título homónimo como contraparte del single, en el que se incluía una nueva versión del PV, el making of del PV original y el spot publicitario del single. Los canciones de acoplamiento del single fueron Hot Summer Day y 明日の君. Esta última canción y Realize fueron incluidas en su primer álbum de estudio, Greeting.
Realize is the second single recorded by Nami. The limited first pressing of the single comes with a Gundam War card and a Gundam SEED super picture CD label. The song was used as the final opening theme song for TBS' anime series Mobile Suit Gundam SEED. Due to the popularity of Realize and the Gundam SEED series, a remix version of the single was released two months later. The limited first pressings came with a limited CD jacket, a super picture CD label, and a Tamaki Nami x Gundam SEED original calendar. In December 2003, Nami released the Realize DVD single and her second video release. It includes a new version of the music video, the original videos making of, and the TV-SPOT used to promote the single.
The single reached #3 on the weekly Oricon chart and it continued to rank for a total of thirteen weeks, selling a total of 157,190 copies.
Tracklist
1. Realize
2. Hot Summer Day
3. 明日の君
4. Realize (Instrumental)