Missing You ~Time To Love~☆
Nami Tamaki y Supernova, juntos en una cover K-POP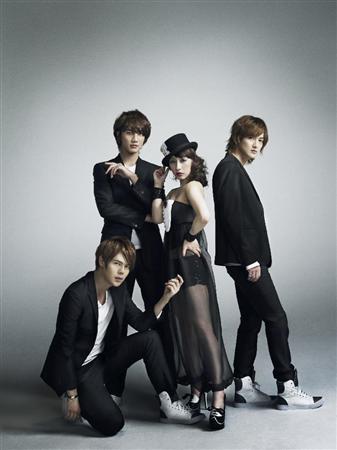 Nami Tamaki dará a conocer una nueva canción el 12 de Enero del próximo año 「Missing You ~Time To Love~」. Una cover K-pop como un desafío en su carrera. Una canción interpretada por un sexteto coreano, que debutó en Japón el año pasado, el grupo Supernova (Choshinsei). La canción original fue interpretada por ellos junto al sexteto femenino coreano T-ARA (ahora septeto), cuyo título original era "TTL/Time To Love".
Esta vez es Nami la que se ha unido con 3 integrantes de Supernova para hacer una nueva colaboración, con intención de llegar a Japón y a Corea.
Algunos grupos coreanos como KARA y 2PM se han dado a conocer en Japón con un gran éxito, ahora es una artista japonesa la que expande sus fronteras hacia Corea, probando algo fuera de lo común. "Missing you" fue una nueva versión de la canción original interpretada por T-ARA llegando a lo más alto de las listas con 200 millones de ventas!!!
El año pasado, Nami empezó a interesarte por la cultura coreana, viajó a Corea después de conocer a unos amigos bailarines coreanos en Japón, ella pensó que quería hablar bien el idioma, y empezó a estudiar coreano, junto con esto, empezó a escuchar música coreana y quedó fascinada queriendo interpretar este gran éxito coreano.
Finalmente, el K-Pop es una tendencia que Nami Tamaki quiere expresar a través de su propio estilo, y por recomendación de su staff, ha decido convertirlo en uno de sus covers. La canción elegida ha sido "Time To Love".
Los integrantes de Supernova estuvieron encantados con esta oferta, pero sólo 3 de ellos participarán en la cover, Kwang Soo, Ji Hyuk y Geonil.
De forma inesperada, Kwang se unió a este reportaje diciendo "La voz de Nami es genial, además es la más atractiva de nosotros tres", y para terminar añadió: "Me gusta todo de Japón".
Nami contestó a este reportaje diciendo: "La canción ha quedado genial. Tiene un ritmo muy poderoso y es una canción maravillosa, quiero que esta canción también llegue al pueblo japonés, es una canción que se vuelve adictiva, no la pares de escuchar, y llegará a lo más alto".
Traducción @ Nami-Kei
Fuente: http://www.sanspo.com/geino/news/101210/gnj1012100505016-n2.htm