¡Todas las actuaciones de junio del musical Sailor Moon versión Nogizaka46 han terminado con éxito!
Muchas gracias a todos los que habéis venido a apoyarnos.
Desde que empezamos las lecciones a toda velocidad,
han pasado dos meses volando, como un abrir y cerrar de ojos.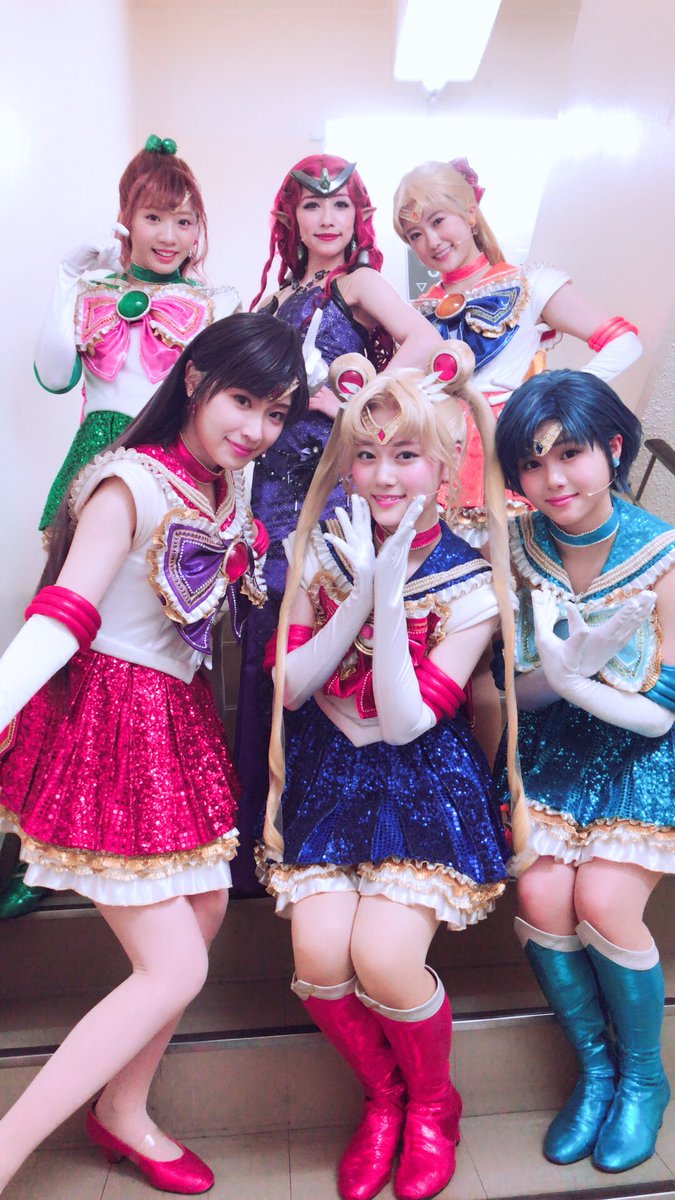 Team MOON.
El equipo MOON ha sido un equipo con mucha fuerza y poder en cada una de ellas, han sido geniales y muy centradas en sus papeles, lucharon como buenas guardianas.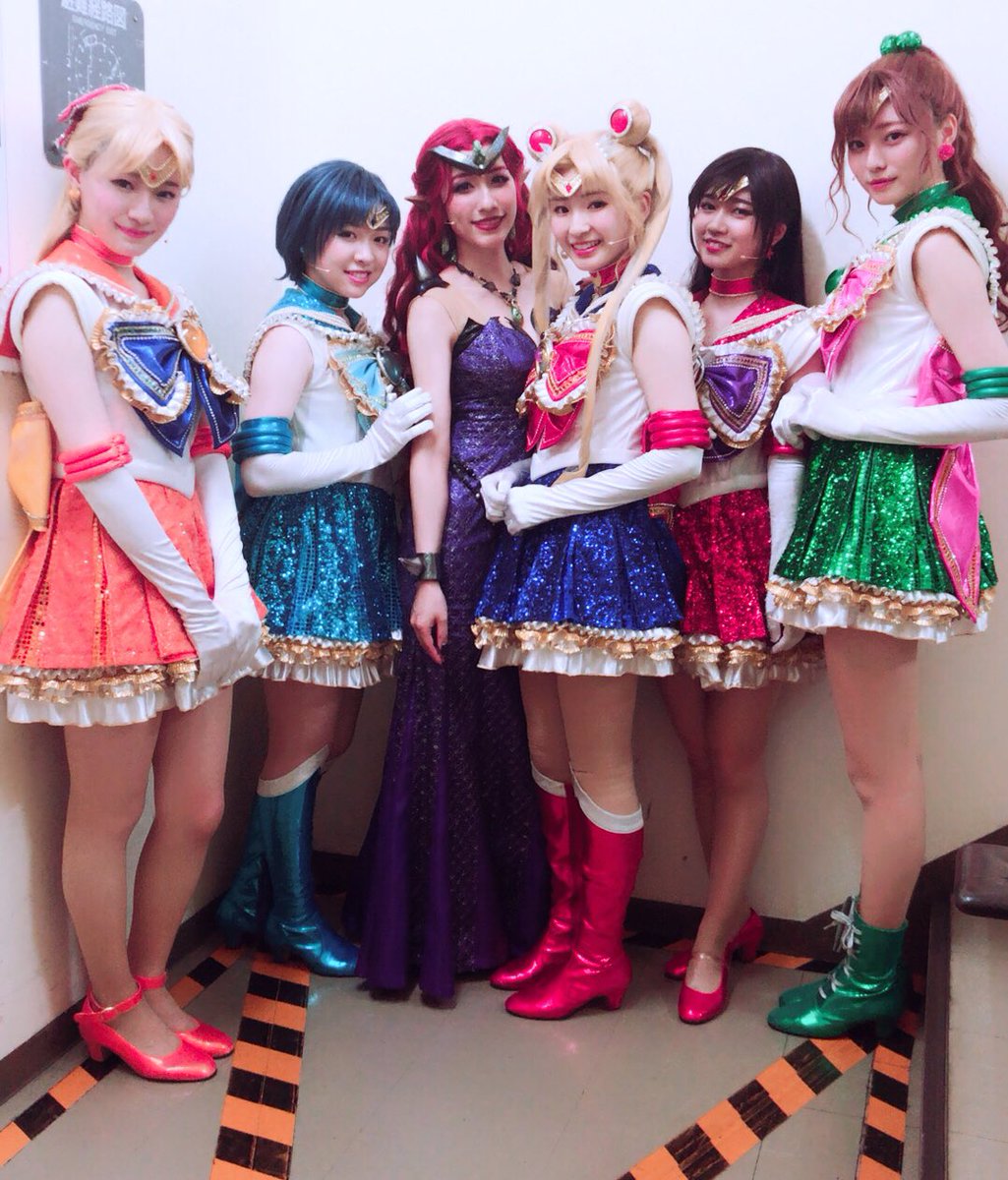 Team STAR.
El equipo STAR ha sido muy fuerte y han trabajado muy bien juntas, la conexión ha sido inmediata y les une un vínculo muy fuerte en la vida real. Son realmente encantadoras.
Ambos equipos interpretaron el mismo guion, pero ya que los personajes eran interpretados por diferentes personas la personalidad cambiaba un poco, ¡todos pudimos disfrutarlo de maneras distintas!
Tanto las sailors como el resto del elenco hemos trabajado muy duro, había pasión por este trabajo y recibíamos mucha estimulación a diario.
Y, sobre todo, todo el staff incluido fue gente muy agradable.
Estoy muy feliz de poder participar en una compañía tan acogedora.
Un pequeño resumen en imágenes:
Mi Tuxedo Mask favorita, Mikako-chan.
Ella también tuvo un gran trabajo que hacer, muy duro, y fue muy cuidadosa con cada detalle.
¡Me encanta! ¡Lució como un hombre muy bello!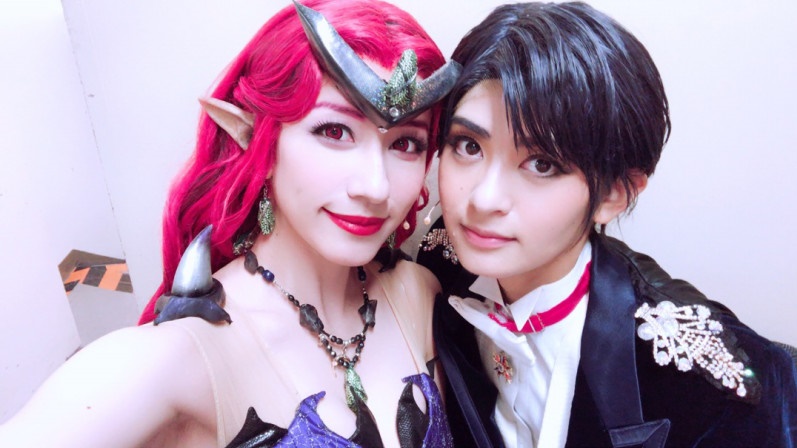 Sin estas personas mi Beryl no puede existir.
Kunzite (Chihiro), Nephrite (Shin), Jedite (Rina) y Zoisite (Sari).
¡Gracias por darme siempre maravillosos momentos en el vestuario!
Chihiro era siempre una líder muy divertida y confidente.
Shin es muy dulce por dentro, pero por fuera es muy segura.
Rina es muy natural y amigable.
Sari es una persona muy entregada y sólida.
Todas son realmente lindas.
Fuera del escenario son muy deredere* (risas)
(*De personalidad espontánea, tímida y amorosa)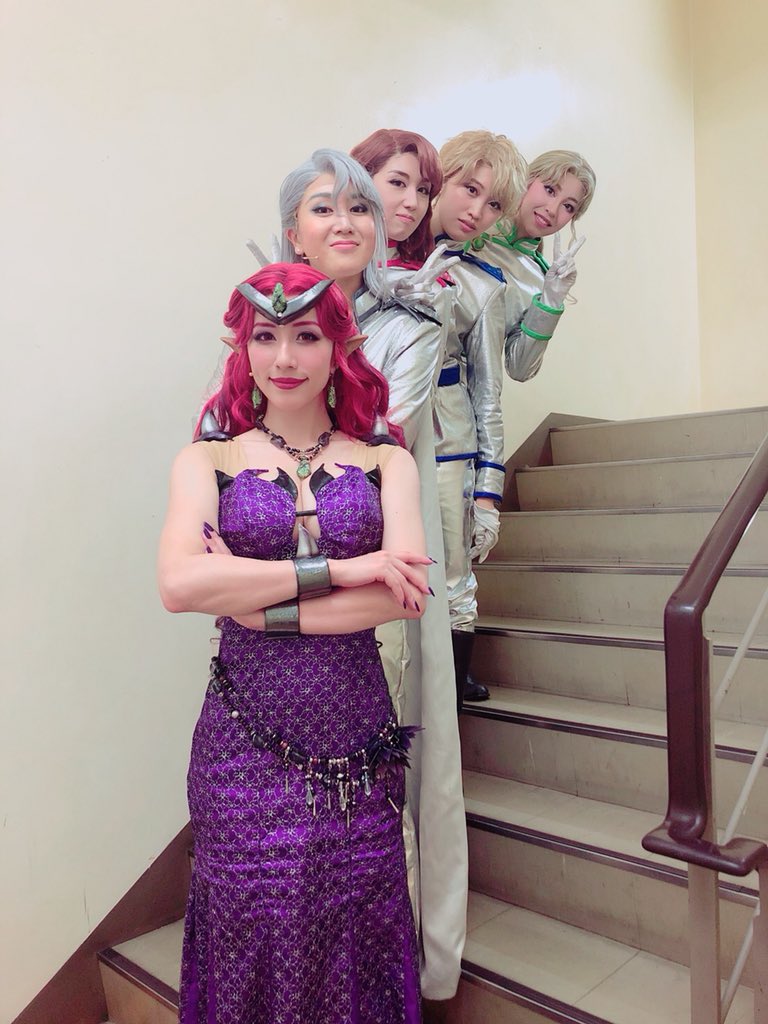 Misato, en el papel de la gata Luna, con quien hice amistad al instante,
Luna es demasiado emotiva y espontánea.
Nos hizo sonreír todos los días con su sonrisa.
Las canciones de Luna son maravillosas, por eso no os perdáis tampoco las actuaciones de septiembre.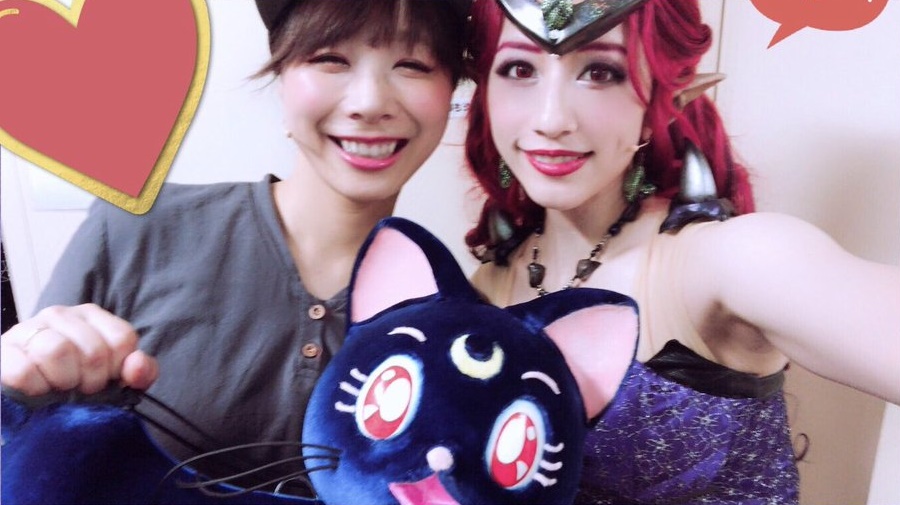 En el papel de Naru, Yuka-chan.
Ella siempre mostró mucho interés por estudiar su papel y es muy divertida.
Su rendimiento era admirable y es muy trabajadora.
Te vuelves adicto a Naru, sin duda. Es impresionante.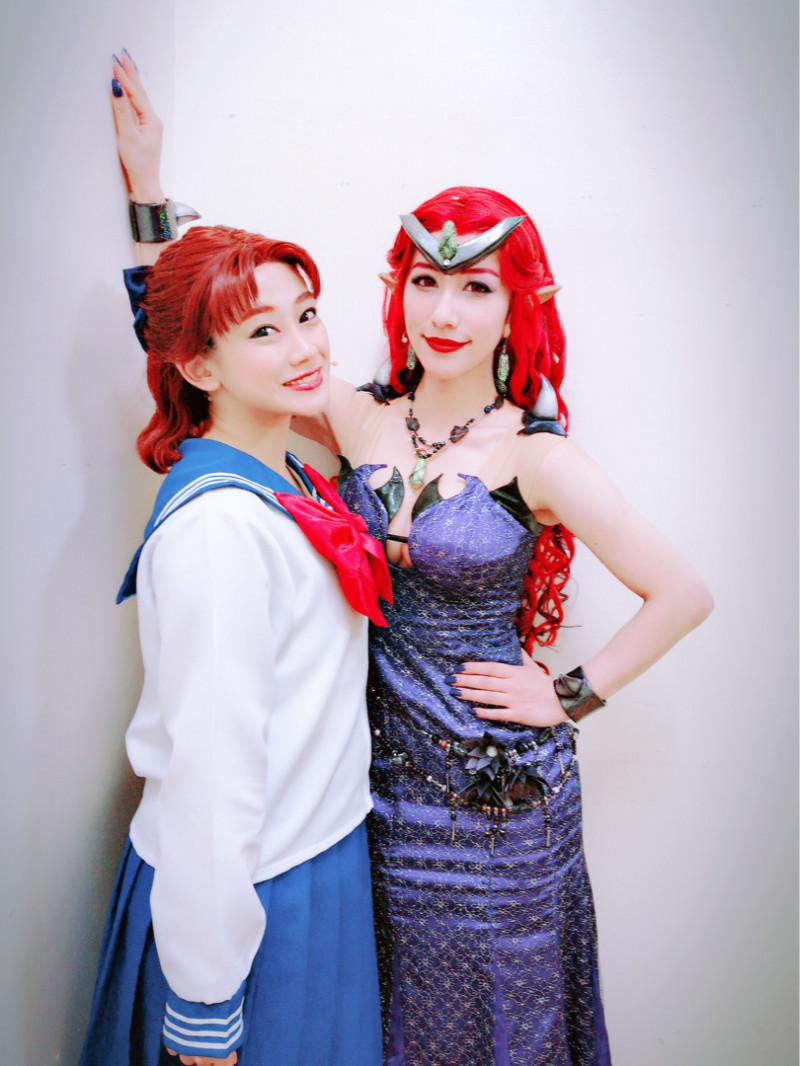 Tanoue, en el papel de Gurio.
¡No hubo fotos solo de las dos juntas! Es demasiado genial.
Todos los días miraba escenas muy divertidas de ella.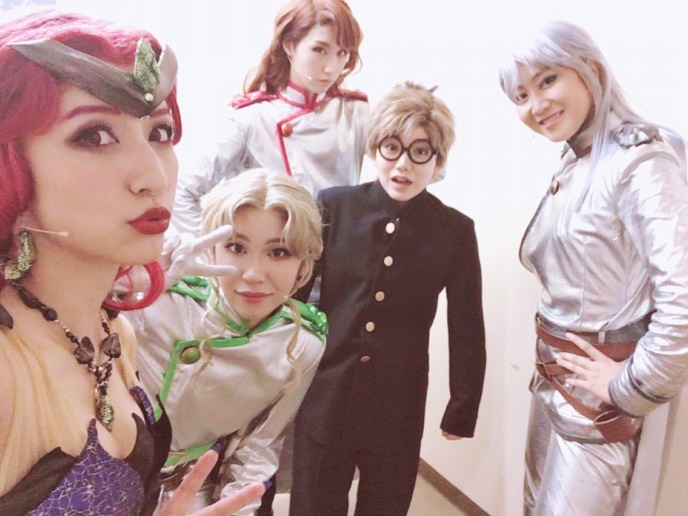 Todos somos un buen equipo.
¡Nos haremos una foto las dos juntas en septiembre!
Bueno…
Aunque las actuaciones de junio ya han terminado,
en septiembre habrá nuevas actuaciones con toda la energía de Sailor Moon,
daré lo mejor de mí para seguir mejorando y ofrecer lo mejor.
¡Muchísimas gracias!
xoxo.
---
All the performances of musical Sailor Moon ver. Nogizaka46 in June have finished successfully!
Thank you very much to all of you who have come to support us.
Since we started the lessons, two months have passed so quickly,
like the blink of an eye.
Team MOON.
They have been a team with great strenght and power in each of them, they have been great and very focused on their roles, they fought as good guardians.
Team STAR.
They have been very strong and they have worked so good together, the connection has been immediate and they have a very strong bond in real life. They are really lovely.
Both teams performed the same script, but since the characters were played by different people the personality changed a bit, we all could enjoy it in different ways!
Both the sailors and the rest of the cast have worked very hard, there was passion for this work and we received a l of stimulation every day.
Also, above all, all the staff included were very nice people.
I'm so happy to be able to participate in such a welcoming company.
A little summary in images:
My favorite Tuxedo Mask, Mikako-chan.
She also had a great job to do, very hard, and she was so careful with every detail.
I love her! She looked like a very handsome man!
My Beryl cannot exist without these people.
Kunzite (Chihiro), Nephrite (Shin), Jedite (Rina) and Zoisite (Sari).
Thank you for always giving me wonderful moments in the locker room!
Chihiro was always a very funny and confident leader.
Shin is very sweet inside, but on the outsite she's very selfconfident.
Rina is natural and friendly.
Sari is a very dedicated and solid person.
They're really beautiful.
Off the stage they're very deredere* (lol)
(*With a spontaneous, shy and loving personality)
Misato, in the role of the cat Luna, with whom I made friendship instantly,
Luna is too emotional and spontaneous.
She made us smile every day with her smile.
Luna's songs are wonderful, so don't miss either the performances in September.
In the role of Naru, Yuka-chan.
She always showed a great interest in studying her role and is very funny.
Her performance was admirable and she's so hardworking.
You become addicted to Naru, no doubt. She's awesome.
Tanoue, in the role of Gurio.
There were no photos of just the two of us together! She's so cool.
Every day I watched very funny scenes of her.
We're all a good team.
We'll take a picture the two of us in September!
Well..
Although the performances in June are over,
in September there will be new performances with all the energy of Sailor Moon,
I'll do my best to keep improving and offer my best show.
Thank you so much!
xoxo.
Fuente / Source | https://ameblo.jp/tamakinami-blog/entry-12386347960.html
Traducción / Translation | Nami Tamaki Spain